After hard work, we want to find ways to relax and unwind. How can we do it online? Here are a few ideas on how to relax in the evening online.
1. Games
Firstly, and it is probably the most popular option – online games. They are considered an excellent way to relax and unwind. Why should you choose this way to relax in the evening?
First, online games are primarily immersed in a new unknown environment with its own rules – a new world full of problems and dangers. The new environment will help you escape the stress of everyday life and give yourself a break from routine.
Secondly, games stimulate the brain and develop many essential skills. Strategic games can help improve logical thinking and decision-making, and games that require quick reactions help build coordination and attention.

Third, online games often have a social aspect. Many games allow you to interact with players worldwide, promoting communication, strengthening social ties, and exchanging cultural experiences. In addition, this feature of online games will be helpful for people working remotely – direct contact with people will help them maintain social skills.
Finally, games can be a source of creativity. Games allow for creativity, from designing characters and creating stories to building entire virtual cities.
2. Productive Recreation.
Abundant recreation means engaging in activities that allow you to relax and improve existing skills or acquire new ones. Knowledge is power, and learning something new stimulates the mind and helps keep you energized.
You can use the online platform and online schools that offer courses, and read books online that can help you to boost some skills. Podcasts and YouTube videos are other sources where you can find a wealth of educational material on any topic. From art history to programming, these resources can help you learn something new and exciting.
Moreover, you can also have a productive break by planning your following day. Not only is it comfortable and reduces stress to know in advance what you have to do tomorrow and be in control of it, but it's also helpful to keep things under control. In the evening, you can open your time planner app on your computer and quietly set activities, tasks, and reminders for the next day, which allows you to forget about this job tomorrow and be more productive.
3. Books and podcasts
Listening to podcasts and audiobooks is a lovely and valuable method to unwind. They allow you to grow while keeping your mind engaged and present unique learning and growth opportunities.
Podcasts include a range of subjects, including both art and culture and science and technology. It's a great quick way to stay up-to-date on news and trends, learn something new, or learn more about an area of interest. In addition, podcasts often include exclusive interviews and debates that give you different perspectives on a range of topics. It's comparable to listening to the radio in your car – but more convenient and useful. Audiobooks are a fantastic resource as well. They make available literature of all genres, from classics to contemporary works. Audiobooks offer a unique immersive experience in history and broaden the listener's horizons. With audiobooks, you can learn new things, develop critical thinking and empathy, and enjoy literature.
It's also practical to listen to audiobooks and podcasts. They're ideal for multitasking because you can listen to them while exercising, traveling, participating in sports, or just lounging around the house. You can incorporate study and fun into your daily routine because of their mobility.
Another significant benefit of podcasts and audiobooks is that they encourage active listening, a life skill that is important for both personal and professional growth.
Audiobooks and podcasts are great ways to unwind and are entertaining. Your spare time is even more precious because of the limitless chances for learning, pleasure, and personal development they provide.
4. Streaming movies and TV shows.
Watching movies and shows online is another option for relaxing in the evening.
Online streaming platforms offer various movies and TV series for every taste and genre. From light humor to gripping thrillers, there's something for everyone. Streaming will help you to take a rest from your routine and immerse into the plot. Watching movies and TV series also helps to develop empathy and social understanding, as they often touch on important social and human issues. Thus, they not only entertain but also stimulate thinking.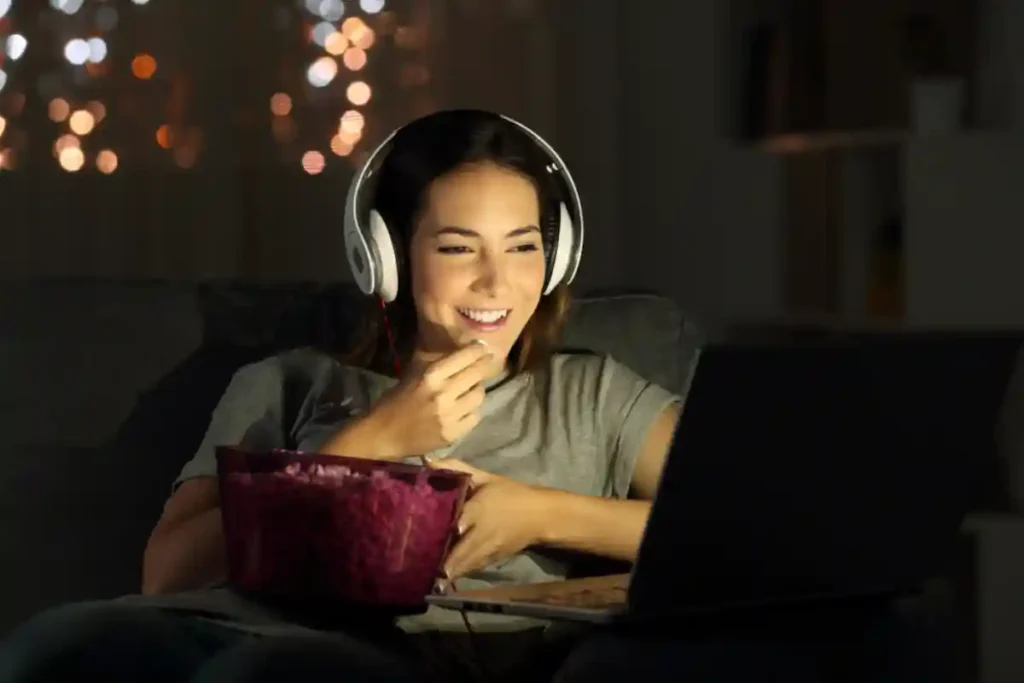 5. Virtual museums and exhibitions
As a way to decompress and unwind, virtual museums, exhibitions, and other forms of online entertainment are becoming more and more popular. They provide distinctive chances for investigation and education in the convenience of your own house.
Virtual museums and exhibitions allow you to explore museum collections worldwide. These resources will give you the opportunity to fully immerse yourself in art and culture, from the imposing works of art in the Louvre to the historical objects in the British Museum. They encourage critical thinking, enlarge vistas, and personal development.
Additionally, a lot of galleries and museums include interactive virtual tours that let you explore at your own leisure. These tours frequently include in-depth explanations and interpretations of the artwork, which adds to the experience's educational value.
Online puzzles and virtual games are also common forms of entertainment. They can entertain and educate while activating various brain regions and fostering the growth of abilities like critical thinking, problem-solving, and attention to detail.
Many online forums and communities offer places to connect and share ideas with people around the world. As I mentioned earlier, to stay socially engaged with people at work, limiting this can be used similarly.
When choosing among the various ways to relax and unwind after work in the evening, it is essential to rely on personal preferences. Among the different ways of entertainment, choose what you like and what will bring you joy and pleasure.
You may also read-
Top 17+ Free Online Movie Streaming Sites like 123movies alternative 2023