Whenever it comes to searching for innovative online learning platforms for students the best name is Blooket. This gamified platform is highly used for educational purposes. There are several games and quizzes available to help students learn in an exciting manner. Here in this guide, we are going to provide you step by step guide to Login Blooket and Start Playing Fun Educational Games. So, let's get started.
13 Easy Steps Guide to Blooket Login
In order to play games on this website it is important for you to have an account. For this, you are required to follow simple steps.
First of all, Visit the official website of Blooket.
Hit on the sign-up tab given at the top right corner of the page.
A new window will appear on your screen, asking you to sign up either with Google or with any other email account.
If you sign up with Google, it will automatically redirect you to a page asking to choose your mail id (that is already logged in to your device)
A new window will appear on your screen, asking you to sign up either with Google or with any other email account.
Chose the account and then a new window will appear asking you to choose a username
Once you sign up, a pop-up will appear asking about your identity whether you are a student or teacher.
Choose accordingly and you are all set
Take the tour and understand, how this platform works.
Here you can either create sets through the "create sets" button or search for the existing ones by clicking on "Discover sets"
For more understanding, you can also click on the "getting started".
How to discover sets?
On the dashboard, choose the Discover Sets options
A new window appears with several game options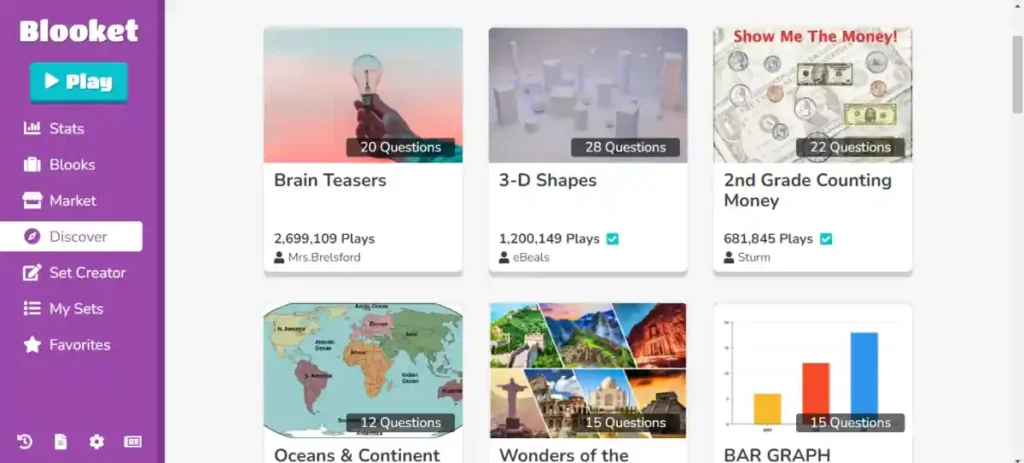 You can also search for the particular game by entering in "Search for a set" bar
Choose any game and then start answering the questions.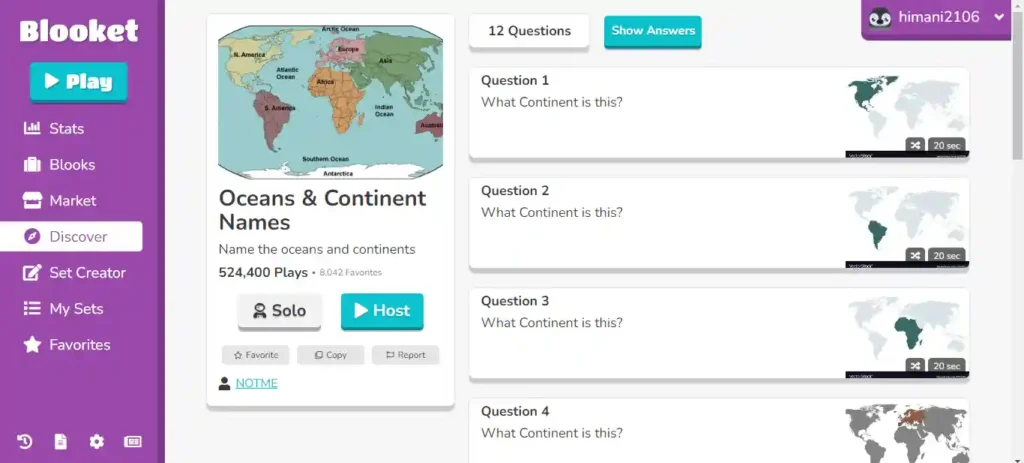 Once you have given the answers, check them by clicking on "show answers" options.
How to create a set?
If you want to create a set then hit on the "create a set" option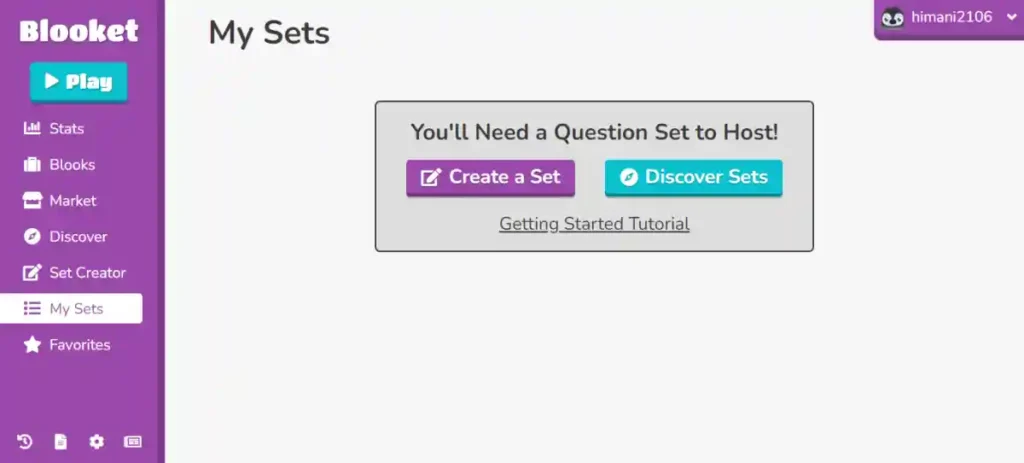 A new window will appear as:
You need to add the cover images, add the title, and write about the game in the description box.
In the next step, you need to enter the questions.
You can enter them manually or can import them directly.
Finally, click on the Create tab.
Joining a Blooket Game: Finding and Entering a Game Code
If your teacher has created a blooket game and you want to join it then,
Ask your teacher for the blooket game code.
Enter the game id
Click on the arrow tab and you will enter the game zone.
In case you don't have a game code then also you can play other games by clicking on the "Discover sets" tab.
How to Earn Points and Level Up in the Blooket Game?
If you want to earn more points in the Blooket game and level up then you need to:
Answer all the questions asked correctly
Power-ups also help in earning points
New powers and characters will be unlocked with every level up.
How to win the Blooket Games? Strategies and Tactics for Success
If you want to win the blooket game then:
Focus on the questions and trivia
Consider teamwork.
Use the power-ups option.
Make your plans wisely.
Stay calm while playing.
Available Blooket Power-Ups:
Power-ups play an important role in Blooket games. Some of the blooket power-ups are:
Shields: It protects you from other players.
Extra lives: It helps you be in the game.
Bomb> It helps you to sabotage other players' attempts to answer questions.
How to Track Your Progress on Blooket: Viewing Your Scoreboard and Stats
To view your scoreboard and stats, follow these steps:
On the dashboard select the games tab and choose the "My Stats" option
You can view your game history and scores as well.
Connecting with Friends on Blooket: Inviting and Playing with Classmates
For connecting with your friends or classmates on Blooket, you need to invite them. For this,
On the dashboard, click on Connect them
Select the invite option available.
An email invitation will be sent to your friends
Wait for your friends to accept the invitation
They will join the game once the request is accepted.
Final Words:
In conclusion, the Blooket login process serves as the gateway to a world of fun and educational gaming experiences. With its accessibility, wide range of games, and emphasis on interactive learning, Blooket proves to be an invaluable tool for both students and educators alike. So, don't hesitate to log in and start your journey toward a more engaging and effective educational experience with Blooket.
FAQ
Is Blooket free to use?

Yes, Blooket is free to use. You can create an account and access a wide range of games and features without any cost. However, there may be optional paid features or upgrades available, so be sure to check the platform for any premium offerings.

Can I play Blooket games on my mobile device?

Yes, Blooket is accessible on mobile devices. You can play games and access the platform through a web browser on your smartphone or tablet.

Can I create my own games on Blooket?

Yes, Blooket allows users to create their own games. The platform provides a game creation tool that allows you to customize game formats, add questions, and personalize the game elements. You can share your games with others or keep them private for personal use.

Can Blooket be used for educational purposes?

Yes, Blooket is designed with an educational focus. It offers a wide variety of games across different subjects and grade levels, making it a useful tool for teachers and students alike. The games on Blooket can be used to reinforce learning, review concepts, and engage students in an interactive and fun way.

How do I join a live game on Blooket?

To join a live game on Blooket, you'll need a game code provided by the game host. Simply enter the game code in the "Join" tab on your Blooket dashboard, and you'll be able to participate in the live game along with other players in real time.

Can I track my progress and performance on Blooket?

Yes, Blooket provides a reporting feature called "Stats." In the Reports section of your Blooket dashboard, you can view detailed information about your gameplay, including scores, game history, and achievements. This allows you to track your progress, identify areas of improvement, and monitor your learning journey.

Is Blooket suitable for all age groups?

Blooket offers games for various age groups, including elementary, middle, and high school students. The platform provides a wide range of game options, allowing users to find games that are suitable for their specific age and educational level.
You might also like-
Free Facebook Games to Play with Friends – Top 10 
The impact of the latest tech trends on the gaming industry