ChatGPT is the most expanding and popular AI tool. It helps us to write creative content to make a trip plan for us. It also provides recipes and more. It gives quick responses to each question related to any subject. ChatGPT is based on language models OpenAI's GPT-3.5 and GPT-4 and it is free to use. But there is a disadvantage too. Sometimes the server is not working due to the overload.
So, those who are facing this problem go through our 10 Best ChatGPT Alternatives that you can explore without any charge.
Microsoft Bing AI is now one of the best and most free ChatGPT Alternatives for every user available on the market. The updated ChatGPT model is launched as multimodal with more accuracy. It has some new host features like visual answering, image creation, helping you to get recipes, making a trip for you, and many more.
Key features
● It is driven by GPT-4, an enhanced version of GPT. 
● It contains three different chat modes based on user requests: Creative, Balanced, and Precision. 
● Utilizing GPT-4 supports the output and input of visuals,
● Easily accessible through the internet
● Find out the most recent facts on any topic using different sources
● Provide Chat history,
Pros
● Provides accurate information
● It has three district conversation mode
● Carries out a keyword-based search 
● Provide references and cite sources
Cons
● It is a little bit slower 
ChatGPT Alternatives that have also been developed by OpenAI's API, Perplexity AI work well. It is capable of providing accurate replies. The website itself has a simplistic design and is easy to navigate. Perplexity is an AI tool like ChatGPT that has the capacity to carry on discussions. It can deliver straightforward to subtle replies. It cites the sources in every answer to your questions, like Wikipedia. Additionally, it is connected with GPT 4's co-pilot mode, giving users an upgraded and simplified action. 
Key features
● Cite sources with each answer
● Concrete Outcome
● It's helpful for suggestions for products. 
● GPT-4 mode and file uploading features
● Follow-up question
Pros
● It offers an intuitive user interface. 
● Offering more questions for further reference. 
● Give references at the end of every sentence 
● Provide simple, thorough, and straightforward replies 
Cons
● Content is only copied from sources
● There are no extra features
● Can't retrieve the past conversation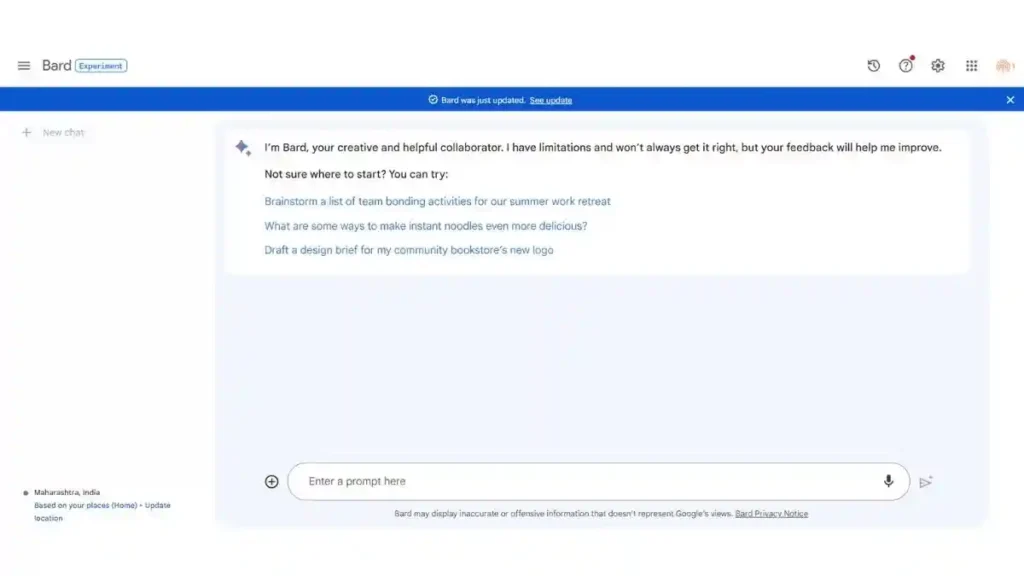 The most recent ChatGPT Alternatives is introduced by Google which is Google Bard AI. AI tool like ChatGPT is powered by the latest PaLM 2 LLM. It is built on Google's own innovative language and advanced conversation model. You will get prompt answers to your queries at the top of the page. Google Bard has the feature to upload photos. Google Bard AI is free to use.
Key features
● It is powered by the most recent PaLM 2 model, Colab,
● It can upload pictures.
● May provide the history of chats, and 
● It excels in strong coding and creative thinking skills, 
● Multiple-language model
Pros
● Quick and prompt response
● Perfect for creative tasks
Cons
● The data may plagiarized
● Never cite sources with answer
● Provide the wrong result
Jasper Chat is another free ChatGPT Alternatives that has a long history of success in the field of AI content creation. However, Jasper also includes a relatively new chatbot in addition to its content-generating capabilities and other services. It has dialogue management skills that enable both creativity and technology using Open AI's GPT-3.5. JasperChat was created for industries like marketing, customer support, sales, and advertising. 
Key Features
● It is developed by OpenAI models, 
● Vast knowledge by mid-2021, 
● Retrieve the previous chat 
● Content is free of plagiarism 
● Has the ability to provide results in 29 languages
Pros
● Able to intellectual discussion
● Developed to satisfy the needs of working professionals and marketers 
Cons
● Misstatements in the answers 
● Lack of most recent information
● The free edition has very few features. 
One of the newest and most comprehensive ChatGPT alternatives that have recently gained popularity is Chatsonic. This ChatGPT substitute places greater emphasis on producing factual information while utilizing Google search. AI tools like ChatGPT have launched with more extra features and functionality. It has expertise as they connect to the internet. A suitable image is created by Chatsonic's built-in image generator using the directions you provide. The free version of this tool is available for up to 25 uses.
Key Features
● It is generated by the GPT-4 model, 
● Provides real-time updates
● It can translate the data 
● It has features for image creation, 
● It recognizes voice commands, 
● Creating the date in a pdf or Word file,
● It Character-based chat and internet connectivity
Pros
● Knowledge that is more extensive and current 
● Connect to the internet
● The ability to regenerate the response 
● The mobile and user-friendly
● Interesting conversations with various specialists 
● Android app and companion browser extension
Cons 
● Fewer interactions because most features only appear in premium editions.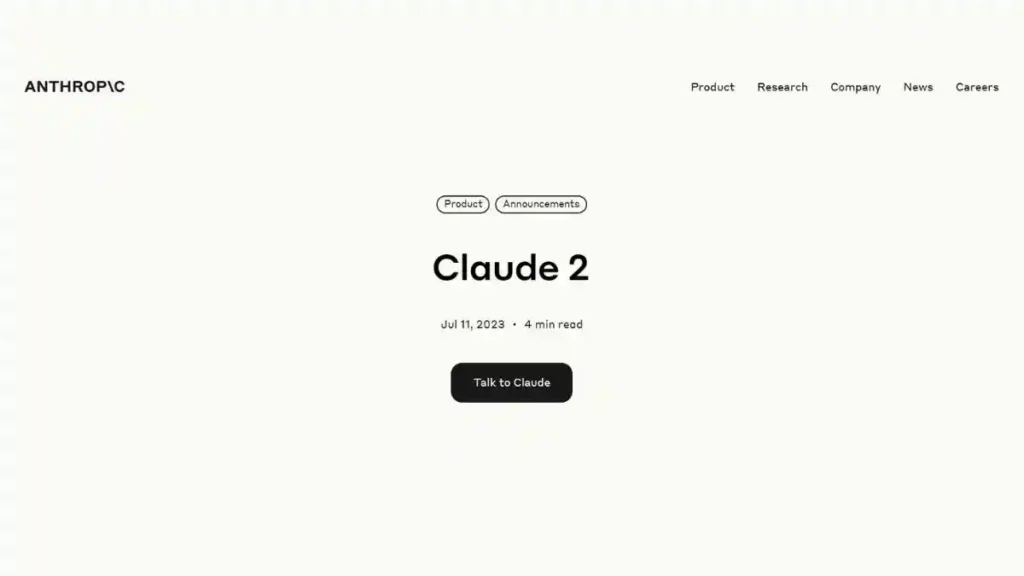 There are several competitors for ChatGPT in the AI market. Here comes Claude 2, a new ChatGPT alternative from the business Anthropic. The business competes with OpenAI since Google has supported it. Claude is now a useful, safe, and trustworthy bot that may be used. Claude is capable of generating complicated content and programs. As well as it's engaging in ordinary conversation, joke-telling, and puzzle-solving. There is an additional feature to attach files so that text may be extracted from the files.
Key Features
● The context window is more than 100k, 
● It has the capability to load book libraries similar to the GPT-4 model
● It can upload PDF documents 
● The price is cheaper than GPT-4, 
● LLM is safe to use
Pros
● Quick response time 
● Carries out simple coding 
● Writing that is original and collaborative 
● Ability to multitask
Cons:
● Makes up the information 
● Wrong memory access 
● Unable to carry out difficult computations 
Pi, Your Personal AI is another ChatGPT alternative. Pi is a personal artificial intelligence created to be a helpful and intelligent bot. It serves as a forum for responses, suggestions, and light conversation. Its distinctive design is apparent through discussion that is dialogue-based rather than chat-based. 
Key Features
● The Pi AI chatbot has intelligent characteristics and replies, which are its main features. 
● Another special feature is getting a voice-based conversation. 
● To soothe you, you can pick from four voices that imitate human speech. 
Pros:
● Suitable to improve your mental health
● Realistic conversation
● It provides a calm and sweet voice
Cons:
● Needs a phone number to register 
GitHub Copilot X is an AI tool like ChatGPT which is popular among software developers and programmers. It is compatible with well-known coding environments including VisualStudio, VS Code, JetBrains, and Neovim, used by Programmers. The features of this are similar to the GPT-4 model. It has been developed with millions of codes. With the aid of AI, text and voice-based prompts may be used for developing and enhancing codes. GitHub Copilot X helps in thorough analysis and explains code blocks. It gives quick responses to inquiries about documents. 
Key features: 
● The GitHub Copilot X delivers auto-completion and real-time code.
● It provides suggestions. 
● Additionally, it creates syntax for several languages, including Javascript, BASH, and others. 
Pros:
● Helps with in-depth analysis and improvement for the coder
Cons:
● It is more expensive
● Inability to produce pertinent replies 
After the success of Liama Meta released Llama 2 to the open-source community. This time, Meta presents Llama 2 with pre-trained and fine-tuned model features with parameters ranging from 7B to 70B. Llama 2 is trained to hold 2 trillion tokens than its earlier model. Llama 2 excels at logic and coding, among other skills.  Overall, Llama 2 is one of the most potent fundamental models and the best ChatGPT alternative among all open-source models. 
Key Features
● One of the top open-source models, 
● Trained in parameters from 7B to 70B, 
● 4096 tokens of context, 
● Comparable to GPT-3.5 
● Knowledge of logic and code
Pros
● It is free to use 
● Very strong in logic and code; 
● Quick performance
Cons
● Poor functionality
HuggingFace is one of the finest open-source ChatGPT alternatives that provides several AI services, has developed HuggingChat. This chatbot is made with the Meta AI (LLaMA) language model, which has around 65 billion parameters. HuggingChat is a complete AI tool like ChatGPT. It can provide you with recipes, curate HTML code for websites, generate amusing blog entries and jokes, and much more. It provides an accurate and informative response. The reason is that it is connected to the internet. 
Key Features
● Reasonable and multi-purpose model, 
● Enables online access 
● Helpful for programming and coding 
● Generated by open-source models from Meta
Pros
● Gives quick and concise response
● Can do different types of tasks
Cons
● Compared to Chatgpt it has fewer parameters
You may also read: