Create Your Own Master Piece of Art with these best 20 Photo Editing Apps.
In the modern era, every day more than 350 million Facebook photos are shared on the internet. You may share photos with your family, friends, and others and you want them to look good. That's why everyone goes for editing apps that allows you to edit photos have become very popular and attractive. You can not only photograph with your smartphones but can also download a lot of excellent photo editing apps that will help you to edit the images into something spectacular.
Here are the 20 best choices for photo editing app that will give you good snap a unique edge.
Best Photo Editing Apps to Frame Your Photos Something Special
PicsArt is one of the most favorite mobile photo editing apps to everyone because it has a ton of features. This app has been downloaded over 300 million times and people can use it for editing images, making collages and drawing.
As well as, PicsArt is an all-around highly capable and most popular Android photo editing app with smartphone users.  PicsArt comes with the highest number of real-time enhancement tools and it allows you to take photos, edit it, apply effects and filters and share with your friend, family, and other community.
With the PicsArt, your photo has made it very famous among the people who want snappy edits on the go. Further, this photo edit app has a perceptive user interface and neat design along with highly customizable features.
In the PicsArt, the basic tools are frames, collages, filters, draw, masks, stickers, lens flare, tilt-shift, stretch, crop perspective, borders, speech bubbles, text additional tools, and inbuilt camera as well. Further, you can download it for free and it generates revenue for some additional tools like tattoo fonts, love quotes, and birthday frames.
Are you a mobile photography enthusiast? Is, so, there are chances that you have already heard of Snapseed. Snapseed is a fantastic photo editing app developed by Google and it is suitable for both Android and iOS.
Snapseed is for those people who want to edit their photos hassle-free and it offers the cropping and rotation tools that allow you to modify the depth of field, curves, perspective, and brightness. As well as offering a comprehensive range of facilities like subtle corrections and style filters. Other filters are HDR scape, Drama, Grunge, Black and white, Vintage, Retrolux and more.
Additionally, the most interesting tool of Snapseed is Expand which helps to calculates what the area surrounding the subject looks like and make the canvas larger. The Snapseed has the ability to edit RAW-DNG files.
There are more glamour glow features that work well for both fashion shoots and portrait.
Take a quick pic with EyeEm which is a mobile photo editing app for free. It supports Android, iOS, and windows and you can take selfies from your main screen of the pretty user interface.
EyeEm offerings are 24 adjustable filters, smoother, clean and other features more than what Instagram offers. It offers unique filters, a broad range of frames, enhancement tools and much more. EyeEm select is an AI curator that helps you to select photos with high likeability. This means you contribute your photos to the platform for 50% royalty.
Want to learn and enhance your editing ideas and creations? If so, EyeEm's robust online community is a more helpful resource for your creative editing.
This EyeEm assists you to get rewarded for your photos and sell your photos in the online's world, gain exposure as well as it to the next level. The most interesting unique feature of EyeEm is that it enables interoperability with other application.
One of the best photo editing apps is VSCO which supports advanced camera controls and photo editing community. VSCO has plenty of presets, tools and filters and can publish your images and journals and curate content in your profile. As an editor, VSCO is similar to Instagram, but VSCO doesn't have any social components like "comments" and "likes".
Further, VSCO not only has a number of editing options such as contrast, exposure, and temperature correction but also give access to an alignment tool. As well as, VSCO is an ideal app for those perspective problems creating distortion. In VSCO, you can pick a premium membership and unlock more than 170 presets or re-create vintage film looks by Kodak, Agfa, Fuji, and others. With the premium membership, you can access to photography tips and tricks on VSCO.
This app is perfect for people who are working on journals and portfolios. It makes you feel something much better.
As the name suggests, Prisma has an excellent ability to turn your ordinary photos into the beautiful pieces of art. The creativity behind the app is inspired by Munk, Picasso, Van Gogh, and Levitan. This app is considered as the best app on Google Play and voted app of 2016 on the Appstore.
Prisma offers a wide range of additional tools such as background remover and painting style that assist you to make authentic looking portraits.
With the Prisma, you can take a photo or pick a photo from your camera roll to edit and apply different art styles what you desire.  A deep learning algorithm applies each creative filter on the photos and videos. Prisma has been downloaded tens of millions of time and it has more than 30 styles and you can edit what you want.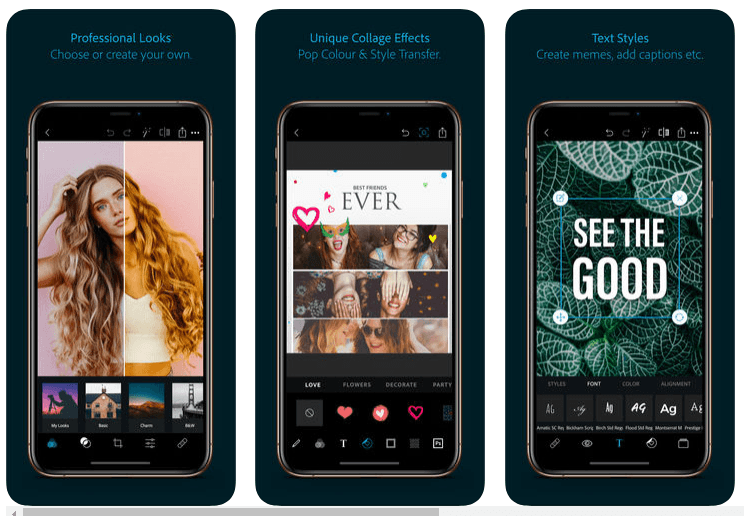 Nowadays, Adobe Photoshop is a respected brand in photo editing and Photoshop Express app too. It comes with various features including a pro-grade processing engine, handy presets, and strength control to adjust effect, collage feature, a single tap of filters and filter effects, pretty comprehensive range of frames, and so on.
As well as, it offers 11 manual editing tools with thumbnail preview and photo sharing capabilities and enables you to make powerful and rewarding edits on your mobile. The Adobe Photoshop Express comes with single tap filters, streamlined the minimalistic interface and superior processing engine.
The Adobe Photoshop Express app is available both for iOS and Android and people can pick it in both the iTunes app store and the Google play store.  It supports RAW files which offer more flexibility. It is quick to resort to your photo editing needs and it is ideal for simple improvements and photo sharing.
Do you want a high level of control over your editing process? If so, Repix is an ideal editor for android. It has a perceptive user interface with a zero friction design. It has built-in Samsung's Galaxy S4 Air view technology and Galaxy Note S Pen. Repix comprises of some photo effects tools with more than handcrafted brushes and rich mix of designed filters, 17 beautiful frames, functional cropping tool with 5 presets.
Other usual features include contrast, brightness, saturation, and temperature. With the Rebecca processing tool, you can edit your images within a second and without any loss.
Lightroom is the best digital photo editing app which is used by Creatives over the world. The app supports RAW file with various types of effects. In the Adobe Lightroom, you can access basic features for free, but some nuanced editing will cost you for a premium subscription. The nuanced features come with the premium subscription including white balance, tone curve levels, and luminance adjustment for various colors.
Are you a professional editor? If so, you will get more flexibility and gain control with the premium version of Lightroom. Editors can also subscribe to the photography Creative Cloud Plan which is a gateway to Lightroom classic and Photoshop. There are numerous photo editing tools ranging from HDR function to combine photos and bring out more details.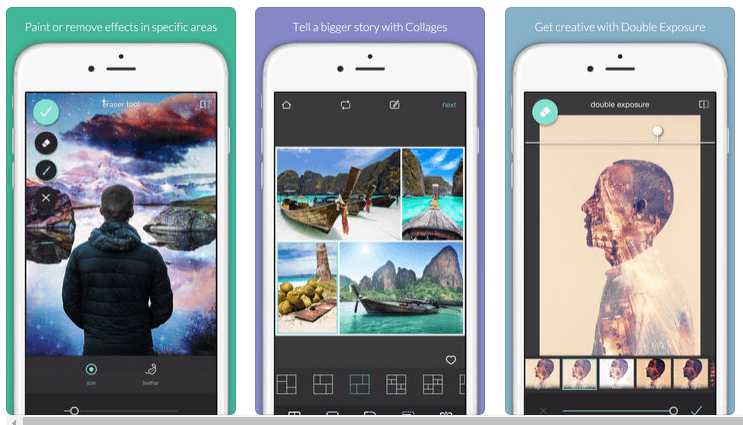 Pixlr is one of the best editor apps that have more than 2 million combinations of effects, filters, and overlays. With the Pixlr, you can make photo collages with different layout, background and spacing options.
Pixlr comes with Auto Fix feature which helps you to balances out the color and multiple photos can be layered and blended together. Photos can be stylized with pencil drawings and ink sketches as well as you can add captions and overlay photos with text options.
With the Pixlr, you can eliminate blemishes; whiten teeth and red eyes for enhancing selfies. The collage features are more superior as compared to Snapseed and work well in other areas including more responsive tools and highly intuitive user interface.
FaceTune is absolutely a must-have photo editing app which was designed to improve selfies and portraits.
While before posting your photos on social media, FaceTune helps to remove blemishes and touch up your selfies. It means FaceTune is like a makeup kit, so you can reduce blemishes, add blur, whiten teeth, reshape and can do much more things.
With the FaceTune, you can remove pimples and brighten dark circles under eyes. Additionally, it can remove red and white eye effect as well as replace the grey hair with various colors with FaceTune. You can refine jawlines, reshape the nose, add color or effects to your face and lips, and apply blush shades and eye shadows.
Photo Lab has the largest collections of tools available in the editing app.  It has the ability to turn your ordinary photo into special art. Photo Lab has a straightforward user interface that enables you to navigate the collection of tools easily.
Photo Lab is considered as the built-in photo editor which offers normal tools for sharpness, cropping, adjustment, lighting control, and rotate among others.
Use it to get access to collage, thermal imaging, photomontages, double exposures, creative frames, artistic effects, face recognition, selfie overlays, photo filters and so on.
You can keep it in your gallery or send this piece of art as a message, post on Instagram, Twitter or Facebook.
Enlight looks like emulated Google Snapseed in many areas include image parameters and radial filters. It is a more advanced app as compared to Snapseed in many areas. It comes with different creative tools including selective control, crop, correct perspective, rotation, filters, gradients, filters, clone tool, and so on.
With the enlight, you can modify parameters and frames easily by using the radial filters. There are more options to add geometric shapes and draw onto the canvas as well as make a photo montage. You can use it for photo transformations into paintings, sketches or illustrations. Enlight is the perfect solution to an iPhone editor.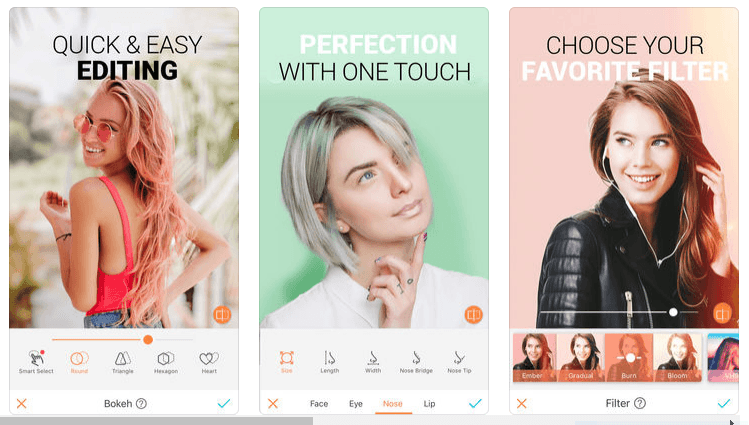 For those who take lots of selfies obviously, Airbrush is a decent photo editing app.  With the Airbrush, if you know how to leverage on the strength, you can turn your ordinary face or skin into something special.
Airbrush comes with various tools for brightening dull eyes, whitening teeth, removing blemishes, and much more. It offers a wide range of filter, effects and reshaping tools that are updated and new highlights added frequently with the emerging trends.
It has a fairly intuitive user interface that gives you more control and is much cost effective as compared to other serious photo editing apps available in the market.
Airbrush is very useful for professional editors who can keen on facial improvements. Are you passionate about selfies? If yes, pick it to make creative and stunning selfies.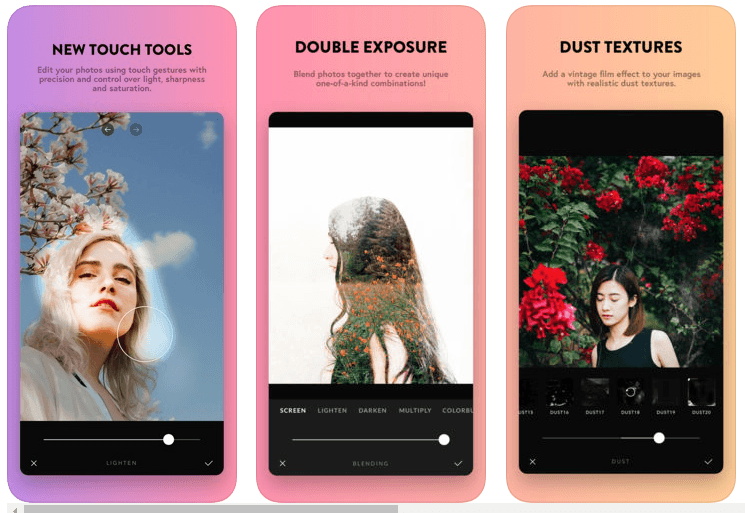 Afterlight is a rapidly growing photo editing app which supports both Android and iOS. You can create photo popular with users accustomed to working in a neat and well-ordered environment because of its clutter-free nature.
It also boasts of a thoughtfully organized selection of key editing features which can provide exceptionally well. It comes with more tools such as 66 textures, 59 filters, 77 frames and a combination of other editing tools. As well as, it gives uniqueness to your photos with your own unique filters.
Afterlight supports RAW files which could be great news for people who want to take photos or save their images in a RAW format which help you to avoid complications inherent in JPEG.  Additionally, Afterlight is a one-time purchase which means you no need to invest to unlock additional features in the purchases.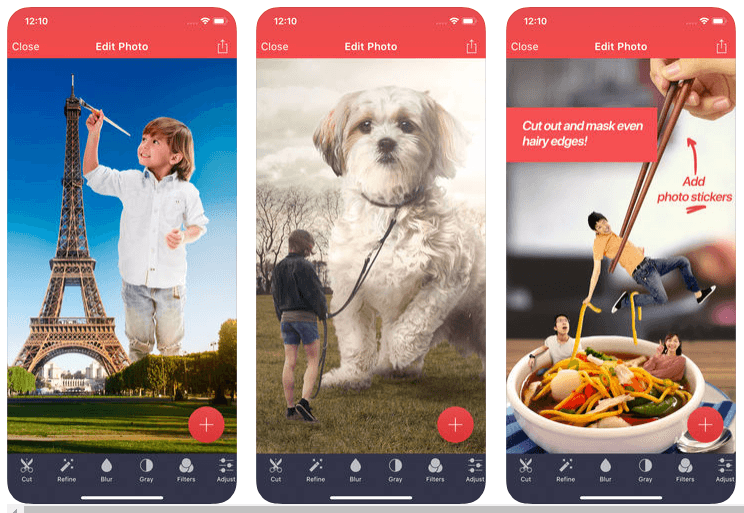 The Pixomatic photo editor is one top photo editing app among the others. It supports both Android and iOS as well as it is a perfect solution for photo editing. The Pixomatic Photo editor is emphasized by Apple in "Incredible Photography Apps", "New Apps We Love" and "offer the Fever on the app store. It will satisfy your all snappy need in features and effects you want in your photos.
Nowadays, people can alter your photos rapidly, absolutely, effortlessly with the Pixomatic editor. Other features include photo transformation that transforms photos into showstoppers within a minute and can turn into a special photo editor without excessive and confused programming. You can edit photos and navigate easily between various devices and it helps to make perfect cutouts, add filters, replaces backgrounds and much more.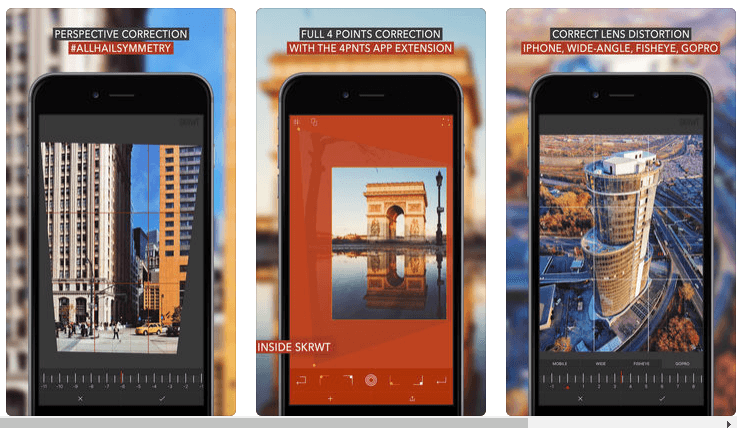 SKRWT is the most focused photo editing app which works with lens and perspective corrections. In SKRWT, people get GoPro cameras, wide-angle, fish-eye for lens distortion.
Using SKRWT, you can apply corrections to horizontal and vertical lines that can prove transformative with architecture shots.
The app includes two further tools including MRRW skews photos and creates mirror images and 4PNTS has intuitive four-point correction tools.
It proves an essential part of any mobile photographer's toolkit. It can be quite useful that opens with multiple settings to optimize your workflow and it comes with an adjustable grid, automatic cropping, and an efficient auto-rotate function.
With the SKWRT, you can turn a photo taken at a given angle to angle them straighten the background landscape of buildings, pull the left and right sides backward and forward and pull the bottom and top sides backward and forward.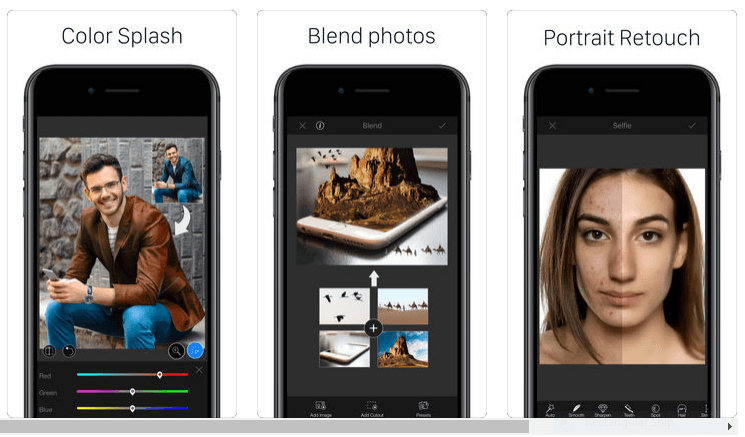 LightX is an amazing and rapidly growing photo editing application and it makes sweet selfies, kid's shows, and exaggerations and represents photograph, alters hair shading like shading sprinkle impacts, blends photographs and much more. It offers a wide range of advanced tools for exposures, color balance, saturation, adjusting curves, shadows, and hues.
You can add text as a message on your photographs and create your own particular images as well. In the LightX, you can upgrade to a pro version to use some advanced tools and then you can be able to use those tools for your creative editing.
You will be able to make Background, color, Blur in your photo with the LightX. As well as, it allows you to quick image sealing by using the save and share screen that offers various size of the edited image like small, medium and large.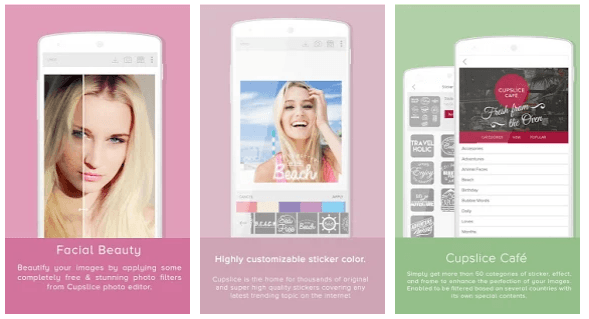 CupSlice is an amazing photo editor that provides different filters to make a striking image. As well as, it is the most famous and portable photo editing application that offers a number of frames, filter, and identification. It comes with essential altering tool consolidate along with sticker modes.
Today's modern world, Cupslice is the trending photography application which is Simple and ease of use app because of its cleaned and minimized nature. You can use it to touch up and beautify your photos at your fingertips. To make your photos stunning with great features and advanced photo editing tools. So, you can edit the photo; apply the filter and effects that make more attractive looks. You can share it with your friend and family as well as post on Instagram, Facebook or Twitter.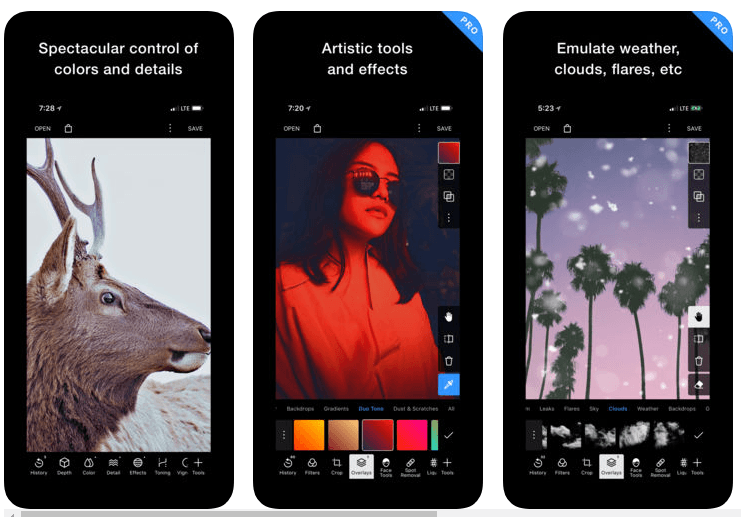 The browser version of POLARR is the feature-rich photo editing app and it not only gives quick access tools for rapid adjustments but also designed for nuanced editing.
POLARR has done something special as compared to Lightroom especially its simple and sharp-shooting crop tool. It has intuitive and quick interactive user interface which is particularly well-designed. It gives access for color, saturation, temperature, contrast, brightness and much more.
There is no doubt it is the perfect and serious app for professionals who can try the premium version which is a good bargain for the kind of control. The app is available for Android, iPhone, and iPad. You can get plenty of features for free as well as unlock additional features on a cross-platform basis.
POLARR sits between the Snapseed and Adobe Photoshop based on the features.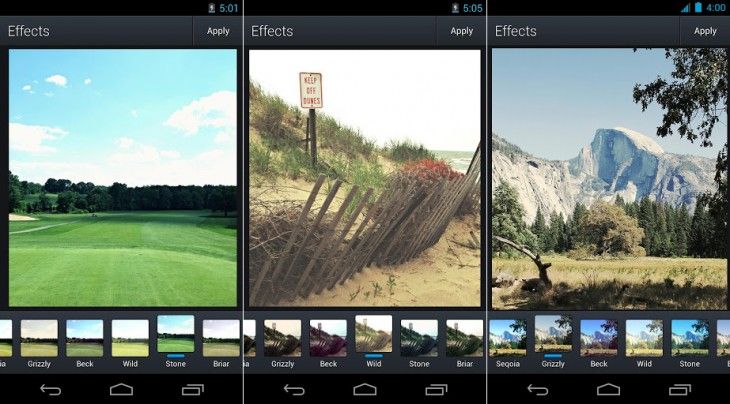 Aviary is considered as the multifunctional android photo editing app that offers you more than you can expect in a photo editor ranging from the great features to more advanced tools including color adjustments, focus, lighting, and sharpness. It offers a pretty comprehensive range of editing options which is placed conveniently on the app home page for your quick access.
Aviary community comes in handy for sharing tips and tricks on using various kinds of filters and effects. The editing app comes with an auto-enhance feature that can adjust the photos automatically based on the presets. For instance, if you want to take a photo of your lunch, you can improve it by selecting the food presets in the auto adjustment option.
Along with the option, you can adjust color, brightness, saturation, contrast, temperature and so on. Aviary is a download free app which is available on both Android and iOS. It has the super instinctive interface so people can get appropriate for altering the photos on the devices you require.
Download: Android, iOS
Do you want to push your editing experience to the next level? If so, choose the above-mentioned best and great editing app to make something special. You can select the apps based on the number of features include user interface quality, versatility, ease of use and level of control, uniqueness, and ease of sharing among other apps. While before choosing the right one, you have to be noted above-mentioned things carefully. Are you a selfie lover? Pick the one great app that will help you to edit your beautiful selfies.